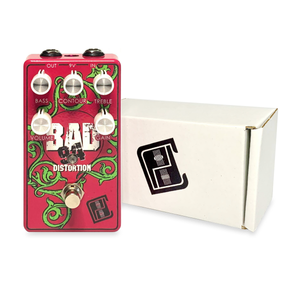 The BAD94 is  captures the sound and feel of my early career guitar solo tones. 
The BAD94 builds on the structure of my early 90s shredded meister pedal of choice, but updated with modern appointments such as top-mounted jacks, true bypass switching and pedalboard-friendly form factor. 
While the BAD94 shares the same controls (Vol, Gain, Bass, Contour, Treble) as the pedal it's based on,  improvement tweaks like an extended treble end and a more musical gain range from big warm pushed Bluesiness to thick roaring Rock and Alternative Crunch to Singing Liquid Sustain makes it applicable to different musical situations and as versatile as the BAD94 signature namesake. These controls will allow you to adapt the BAD94 to any guitar and any amp and retain the core tone. 
Specs 
Wide gain range from pushed breakup to thick crunch to liquid leads 
Volume, Gain, Bass, Treble and Contour controls 
True Bypass Switching 
CENTER-NEGATIVE 9vDC (internal 9v battery terminal available) 
PROUDLY Built in Philippines
Get your BAD94 - Perf De Castro Signature Pedal here:👇🏼
Guitar Pusher: https://bit.ly/3zfVjbk
JAPAN https://reverb.grsm.io/BAD94-JPBA
US/CANADA: https://perfectodecastro.com/product/682136
DEMO VIDEOS: